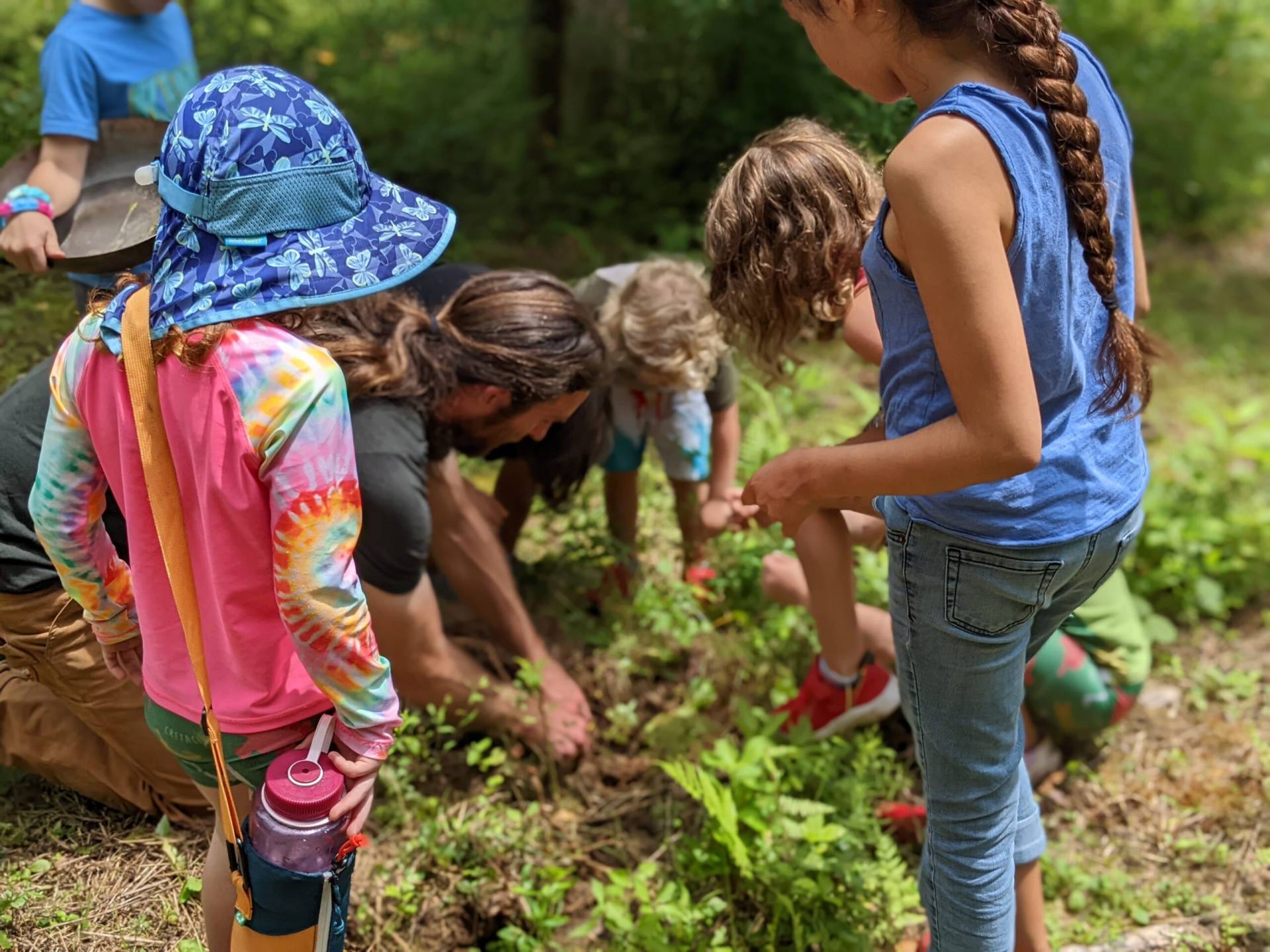 Full 2
We offer youth workshops for all ages covering ecology, foraging, herbs and wilderness survival.
Set up a group visit today!
Youth Wilderness Course
This year long series of monthly classes is an in-depth and hands on approach to primitive living skills. The 3 hour, monthly classes are designed for young people to be exposed to a full range of wilderness survival skills and leave with the knowledge to be able identify and use wild food plants and other helpful plants in the Appalachian region. Learn shelter building, wild medicine making, foraging for food, fire making, and much more while fostering a deeper connection with the land. Truly learn to live within your environment and build community with your peers.
This course needs at least 8 students to form (ages 10+ recommended). We prefer a year long commitment so the same 8 students can work together during the year long course. Once we have 8 students registered the class can begin any time of the year.

*Parent attendance (at no charge) is required. Though we charge per student everyone present will learn and benefit from the course. We welcome parents to learn alongside the students and practice the skills at home with the rest of the family.
Youth Wilderness Course Registration
Download the PDF to view and fill out our registration form AFTER you have contacted us and we've chosen a date for your group.
Download PDF Here
or fill out using google forms here
PLEASE SIGN OUR WAIVER BEFORE ATTENDING ANY EVENT: https://waiver.smartwaiver.com/v/everwilder/
90-Minute or 3 Hour Ecology Lesson
Ecology is a branch of biology that deals with relations of organisms to one another and their surroundings. Let's study how the animals, plants, fungi and people of a certain area interact. Connect with the web of life!
This course is designed for ages 8+ and tailored to your groups age range. It cover basic ecology, plant ID, botany, insect, and animal introductions. The 3 hour course includes several hands-on activities to get kids engaged. We end each session with a group phenology log and hand-outs.
More information and free activities/handouts can be found HERE
Most children enjoy our 90 minute walk and we cover an array of topics including fire making, shelter building, primitive crafts, plant identification and more. Email us directly at [email protected] to inquire about our significant home school and group discounts (typical group size ranges from 6-15 students + parents). We truly enjoy educating children on nature topics through exploration and sustainable ecological practices. Our skills and activities are designed to encourage creative thinking, respect of all living things and problem solving.

We also offer 3 and 5 hour slots on the topics of your choice. Email for more information.


Kids love our activities! ⭐⭐⭐⭐⭐
We use the natural world to stimulate the innate curiosity in life.
"Our family including our 2 boys, ages 10 and 12, really enjoyed the informational hike around Caleb's property. He was full of great info. Our kids loved the part where he taught us how to make rope from tree bark. My husband and I enjoyed learning about the different edible plants and their medicinal uses. There was so much to learn! We would take another hike or class with Caleb in a heartbeat. A great way to connect with nature in a different way on our annual trip to the Georgia mountains."
Lisa, August 2021
"I brought my children, ages 8 and 10, and it was perfect for them. Caleb is extremely knowledgeable and he explained things very well. He was considerate and patient. He customized our walk to me our interest and experience level. My daughter said she really enjoyed the walk. She asked if we could return in a different season to see different plants. I highly recommend this experience."
Maria, July 2021
Our family loved the nature walk with Caleb. He covered some native plants and medicinals, some tracking and some survival. Our sons are 9 and 5 and they enjoyed the walk as much as we did. We all agreed that we would like to return to have a more in depth session with Caleb on the areas that we enjoyed in particular. Caleb's land is beautiful and he is doing the good work of conserving and promoting native plants.
Laura, July 2021